Introduction
A garden hen party is one of the most popular themes in the hen do world. Plan your 'do' for the sunnier months and you'll be set for a truly classy time with your ladies to celebrate the bride-to-be.
There are so many different directions to take a garden party, but no one option is any less fun than another – you truly can'€™t go wrong! Whether it'€™s more picnic, movie or drink oriented, we'€™ll help make sure you'€™re prepared in any situation.
Below you'€™ll find our best tips and ideas surrounding activities, food, games and even some outfit inspiration! Again, there are so many different ways to celebrate a garden party, so feel free to take this in any direction!
Activity ideas
The possibilities for garden hen party activities are near endless. There are so many interpretations that you can carry out any activity in your backyard or even a local park! Here are some of our favourite broad ideas, but feel free to try twisting them into your very own fantasy party!
Picnic
One of the most traditional garden activities, and what I envision when I hear garden party, is a lovely picnic! Whether in a park, backyard or something as crazy as a boat, picnics are such a fun way to celebrate the bride-to-be at her dream garden party. You can grab a bunch of pillows, a long table and some beautiful table decorations in order to create a dream picnic!
Open air cinema
Grab a huge sheet, projector and the group of gals to treat the hen to her very own movie in a garden party! What better way to enjoy a movie than surrounded by your favourite girls and some beautiful greenery?! Play the bride-to-be'€™s favourite movie, grab some popcorn and drinks and you'€™ve got yourself a very laid back garden hen party! You could even celebrate the hen earlier in the day and settle in the garden late at night to get the full movie theatre effect.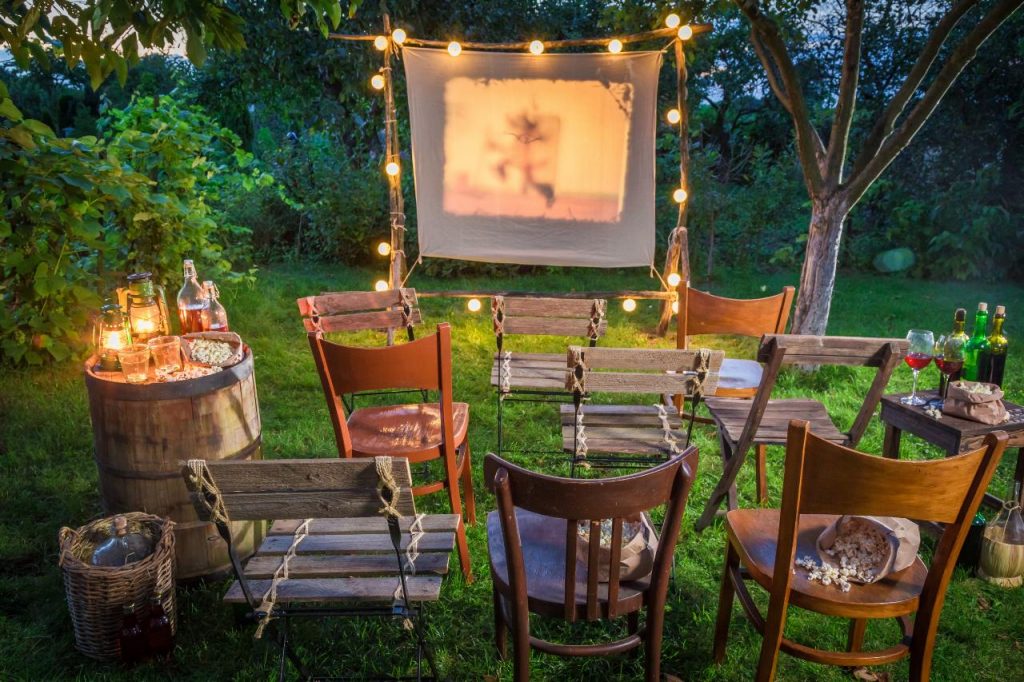 Tea party
A tea party in the middle of a garden is every little girl'€™s dream. Let the hen'€™s fantasy come to life with an adult tea party! Whether you'€™re actually in the middle of a garden or just surrounded by some nice greenery, a tea party totally lets you feel like royalty. Bring all of your favourite foods and drinks and throw on your best pearls and you'€™ve got yourself an elegant tea party in the garden!
Cocktail bar
Create a DIY cocktail bar or hire a master cocktail crafter to ensure that the girls are drinking properly during their favourite hen'€™s party! This is a fun way to get your drink on while also learning how to make some of the best cocktails. Do this right from your backyard or bring the supplies to the party!
Food
Finding the right food for your garden hen party is essential for the whole thing to come together! Here are some of our favourite ideas:
Charcuterie board
Looking for the perfect garden party snack that everyone will love? A charcuterie board never disappoints! You can add some lovely meats, cheeses, crackers, fruit, nuts, jams and more! The options for charcuterie boards are endless and can be completely personalised! Plus, this pairs very nicely with wine, which would elevate the garden party experience.
Tapas
Tapas are the perfect garden party snack if you'€™re looking for a wide variety of delectable foods. I mean, who doesn'€™t love tapas? This range of delicious appetizers is an ideal way to try many different things while wholeheartedly satisfying the guests.
Brunch
One of the best times to have a garden hen party is that blissful late morning to early afternoon period where the weather and breeze feel just right. If you choose to do it during that time, it'€™s only fitting that you indulge in some traditional and delicious brunch foods.
This can include fruit salad, eggs benedict, pancakes or any kind of breakfast meat to name a few. However, foods like quiche and other egg dishes along with pastries are also widely recognized as brunch foods. You could even accompany your meal with a mimosa or bloody mary to get the full brunch effect!
Tea party food
If choosing to go the tea garden party route, proper food is essential. This can include some pastries such as scones, muffins and croissants, or you could go the more classic way with traditional tea sandwiches. These delectable mini sandwiches pair perfectly with any kind of tea, especially English breakfast tea. These often contain cream cheese, vegetables or even certain kinds of protein like smoked salmon or chicken.
Games
One of the best ways to celebrate a hen at her party is by playing some classic hen do games. To continue the beautiful and classy garden theme, you can make up some games that revolve entirely around the bride.
Get some lovely floral stationary or even game stencils and personalise them for the bride-to-be! Places like Etsy and Pinterest can make the game creation process even easier. These classic games will take this garden hen party up a few notches to ensure that everyone has a wonderful time celebrating the hen.
Here are some favourite games for a garden hen party:
Bridal bingo
Bingo is an extremely well-known game. However, it can typically get the reputation of being kind of boring. Turn that assumption around by creating the best bridal bingo board that is completely revolved around the bride-to-be!
There can be a few ways to do this – you can get a template off the internet, or you can hand out empty boards and ask the girls to write down their guesses of what gifts the hen will receive! Then, when she opens all of the gifts, the girls can play bingo and see if their guesses were right!
No matter how you go about this one, the girls will have a blast showing their competitive sides!
Mad Libs – Hen party themed
Mad libs is a fan favourite regardless of the event. So, why not create a classy mad lib that is personalised for the bride? This is a sure way to get the girls laughing and engaged. You can all read out the fill-ins at the end to see who has the best hen-themed mad lib!
Who knows the bride the best?
Test your knowledge of the hen-to-be with this fun personalised game! Again, you can do this game by finding a template online or could bring out your creative side to create a classy paper detailing some of the hen'€™s biggest life moments!
Pose a list of questions about the hen to the rest of the girls and see who knows the bride-to-be the best! These could be questions like '€œWhen did the hen get engaged?'€ or '€œWhat is the hen'€™s middle name?'€. Whoever answers the most accurately wins and gets to say that she knows the bride-to-be the best!
Would she rather…?
This game is so simple yet so fun! Whether you know the hen well or are giving your best guesses, would she rather is a lovely game for a garden hen party. You can find a printout or even make your own with some gorgeous stationery that follows the hen party theme! Either way, the girls will have a blast trying to guess the hen'€™s preferences!
Memories with the bride
This classic game is perfect for your garden hen party! Every girl anonymously writes down their favourite or funniest memory/story about the bride and puts it in a container. This can be a beautifully decorated box or something as simple as a classy hat! Either way, it'€™s easy to follow the theme with this game.
Once everyone puts in their answers, the hen pulls one out and reads it out loud. She then has to guess who wrote that slip! This process is completed until every slip is read and the bride-to-be determines who wrote what! This is a great way to engage everyone and have a laugh while doing so.
What to wear or bring
Lastly, being prepared for a gorgeous garden hen party is crucial! The outfits and accessories can make or break the lovely theme, so here are some of our suggestions.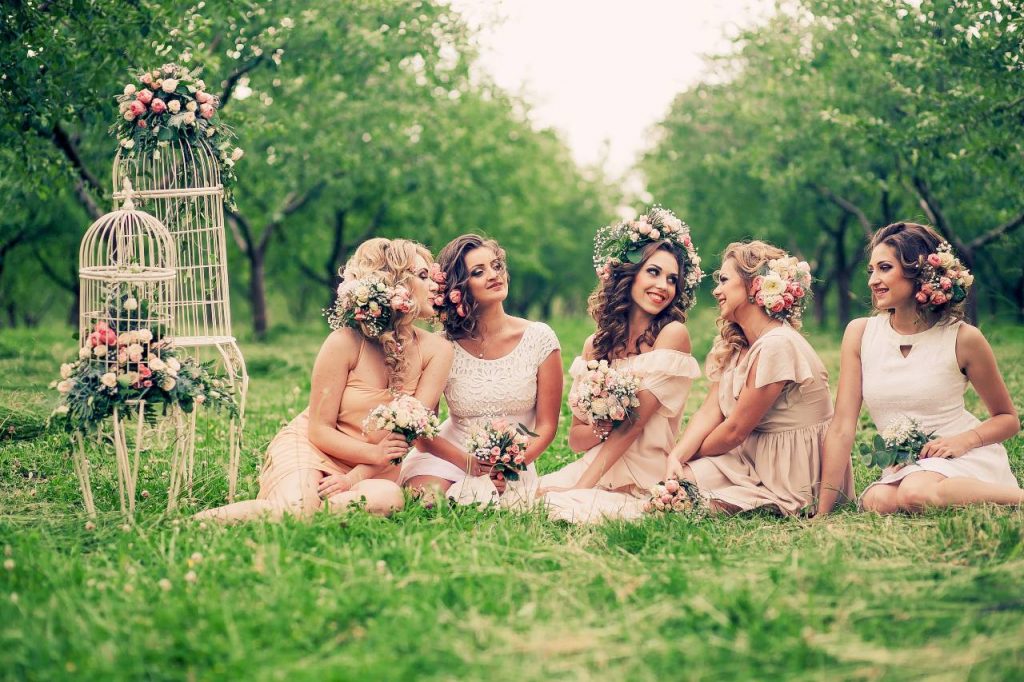 Pastel or floral Hen Party outfit
What'€™s a garden party without beautiful pastes or lovely floral outfits? Whether dresses or jeans, either look will impress for a garden hen party as long as it'€™s got some bubbly class.
Camera
A camera is one of the best things you can bring to a hen party! You can capture all of the amazing moments and laughs and cherish the memories forever. Plus, all of the girls will thank you!
Champagne/wine
What is a garden party without some classy alcohol?! Even if you don'€™t drink, you could consider bringing sparkling juice or fancy water to get the full classy effect! It adds so much extra fun to the party when you act and feel especially fancy while celebrating your special hen.
Sandals
Flat or heeled, open-toed sandals are a great way to elevate your garden outfit. They add a classy aspect to an already lovely outfit and can be super comfortable. 
Trousers and blouse
Not loving the idea of a dress? No problem – try a nice blouse with trousers! Classy yet simple, this combination is still perfect for whatever garden party needs there may be.
Conclusion
Again, a garden hen party can be executed in a million different ways. No idea is any less significant than the one before, but the beauty of a garden party is that it'€™s so easy to adjust the ideas in a way that suits your needs!
Garden parties are incredibly trendy right now and we'€™re not mad about it! Consider using our ideas or go to The Foxy Hen to plan your dream garden hen party!
And don't forget to let the lads know to check out our brother site, The Stag's Balls, for all their stag party planning needs.
What will your summer garden hen party look like?