Introduction
The weddingsonline Wedding Survey results for 2023 are here and, after such a tumultuous 2021/22, it's not surprising to see big shifts in wedding and hen party trends in Ireland.
Throughout the pandemic, thousands of weddings and hen parties were postponed (sometimes multiple times). Here at The Foxy Hen, we are still booking groups in for hen do's for these groups into late 2023 and early 2024 as those delayed weddings finally get their day.
The one thing that hasn't changed is that planning a hen party and handling all of the money is still stressful if you don't have help. If you're organising a hen weekend away in 2023 or 2024, let us know what you're thinking! We'd love to keep it stress-free and fabulous for you and your group.
The survey highlights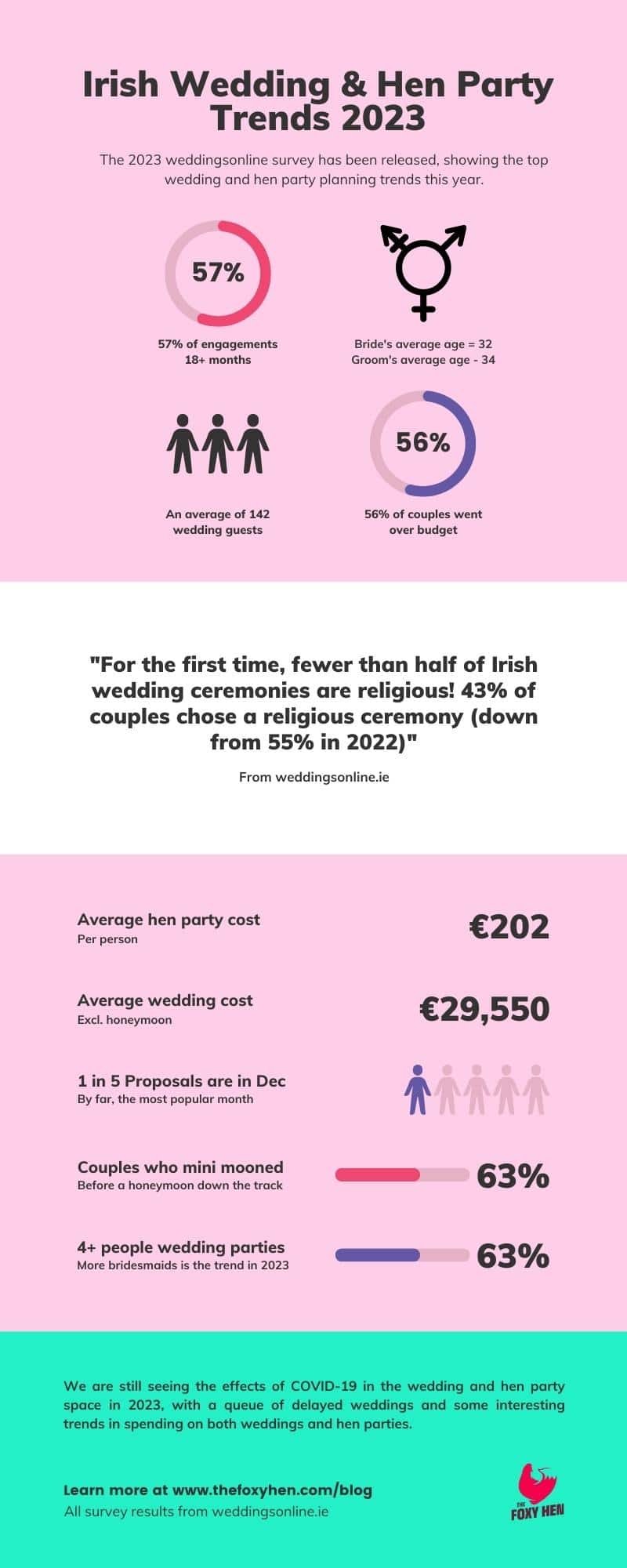 Engagements are getting longer, with 57% of engagements now lasting over 18 months
The average wedding budget in Ireland was €29,550
The average cost of a hen party in Ireland was €202 per person
56% of couples went over their planned budget
43% of couples chose to have a religious ceremony, which is the first time this has fallen below half
21% of proposals took place in December, which is by far the most popular month to pop the question!
63% of couples chose to go on a Mini-Moon in Ireland before a honeymoon a few months later
63% of couples chose to have 4-8 members in their wedding parties
The average number of weddings guests was 142 people
Our favourite wedding survey quote
"Make more decisions to suit [you], not everyone else."

– A weddingsonline survey participant
Average spending on weddings
Over 1200 couples were quizzed for the 2023 wedding survey and they fessed up how much they spent (or will spend) on each part of their wedding and their hen and stag do's. You can take this as inspiration or maybe use it as a goal to work down from…
The hen party
Hen & Stag (per person): €202
The bling
Engagement Rings: €3118
Wedding Rings: €1552
The reception
Band: €2247
DJ: €687
Photographer: €1856
Videographer: €1592
Drinks Reception Entertainment: €647
Evening Entertainment: €966
Photobooth / Selfie mirror: €546
Lookin' pretty
Wedding Dress: €1807
Makeup (bride only): €104
Makeup (per bridesmaid): €73
Hairstyling (per bride): €91
Hairstyling (per bridesmaid): €68
Bridesmaid Dresses (per bridesmaid): €270
Beauty Treatments (teeth, botox, tanning): €423
Accessories: €392
Price per suit: €287
Average number of suits bought: 4.6
The ceremony
Ceremony Music: €567
Celebrant or other Officiant: €501
Other costs
Wedding Planner: €1899
Wedding Car: €638
Food
Wedding Cake: €444
Foodie Treats: €399
Decor
Décor (Ceremony): €542
Décor (Venue): €906
Flowers: €751
Invites: €282
The honeymoon
Conclusion
Taking the pulse of couples getting married in Ireland in 2023 through the weddingsonline wedding survey is even more important as we come out of COVID-19 and look ahead to the future of hen parties and weddings.
Are you planning a wedding and a hen party? We'd love to hear from you about your plans!