Introduction
Planning a hen do involves everything from booking your accommodation, activities meals, nightlife and all the fun stuff in between. All of this means it's easy to forget that you need to invite the bride to her own hen party on top of all of that.
We think this gesture is one of the areas of your hen party planning duties that you can have the most fun with!
Quick List: Ideas To Invite The Bride-To-Be To Her Own Hen Do
Write her a hen party poem
Design a hen party scavenger hunt just for her with clues and a big reveal at the end
Send her a postcard designed to look like it'€™s from the hen do destination you'€™re taking her to
Give her a gift basket with items that hint at your hen party destination and activities
Record a hen party invite the bride video with all the special women in her life giving her clues
Write a song about the bride-to-be and the hen party
Post a clue on your social media every day with her tagged in each one
Get her fiancé to record a video giving her clues about the hen do
Surprise her with a brunch or afternoon tea with food and decorations based on the hen party theme you'€™re chosen for the hen weekend
Design or hand-write a special hen invitation and mail it to her, oldschool style
Organise a hen party flashmob (with her friends/family or a hire group) on her commute to work or out shopping one day
Take the bride out for brunch or dinner and have a cake brought out to the table with the invitation written on it
1. Write Her A Hen Party Poem
Writing a hen do poem for the bride-to-be is a beautiful way to make her feel super special and to personalise your invitation for her big hen weekend.
You could recite them poem in person, mail it to her, post on her social media or frame it and give it to her as a gift.
You'€™ll probably want to come up with your own words but we'€™ve had a go here in The Foxy Hen office to help give you some inspiration:
[Bride'€™s Name], as you become a bride,
With [Groom'€™s Name] to stand by your side,
Before the day you say '€˜I do'€™,
It'€™s our turn to spoil you.
We'€™ve planned a hen party to celebrate,
All the qualities that make you great.
We love you more than we can say,
And we'€™ve planned a really special day,
With memories and games and fun,
And lots of [Her Favourite Food Or Drink], like…a tonne.
A day to remember for a good long while,
One to look back on and to smile.
It'€™s coming soon, you'€™ll have to wait,
So please, [Bride'€™s Name], will you hold the date?
---
Let us know if you write a really special hen party poem – we'€™d love to hear it! x
2. Design A Scavenger Hunt With An Invite Reveal
A scavenger hunt has always been a popular hen party game but we'€™ve switched it up a bit to turn it into your very own hen do invitation game for the bride-to-be.
You could play this game anywhere, so get creative. Maybe hide the clues:
In the bride'€™s home or garden
On a trail in her home town or city
On her commute to work
You could also be really cheeky and take the bride to a busy local bar, give clues about the hen party to 4 or 5 hot guys in the bar and tell the bride she has to go retrieve her clues from the male strangers in the room without telling her who.
3. Create A Destination Postcard Invite
We love this hen do invitation idea if you'€™re travelling overseas or even just to another town or city closer to home. It'€™s as easy as:
Use a free online design tool like Canva and design a postcard that looks like it'€™s from the destination you'€™re taking the bride-to-be for her hen party.
Include a photo and clues on the back about what you'€™ve planned.
Print it out and either mail it to her or hand deliver it!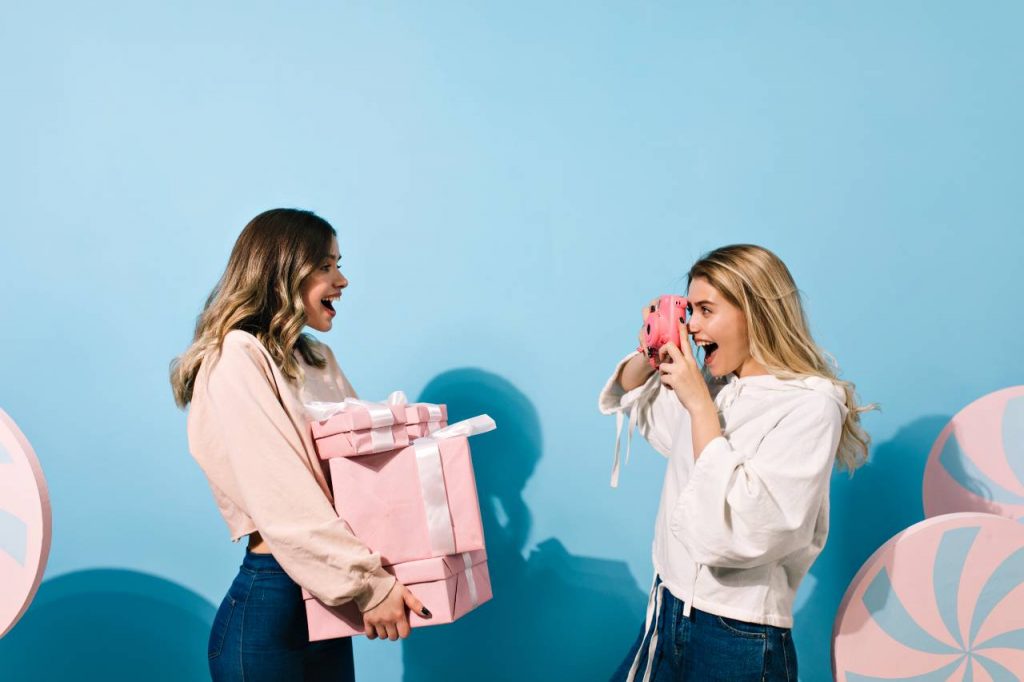 4. Give Her A Gift With Clues
A hen do is an occasion to spoil the bride and make her feel genuinely loved and special. So why should she have to wait until the actual trip?
A really sweet way to invite the bride to her weekend away is to give her a gift or a hamper with small items that give her clues about what you'€™ve got planned for her.
Some gift examples could be:
If you'€™re planning a spa treatment, give her a face mask cream
If you'€™re planning a beach holiday, give her a personalised bride bathing suit or sunnies
If you'€™re planning a boho or festival hen party theme, give her glitter makeup and a flower crown
If you'€™re doing zip lining or rock climbing, give her a photo of the view she'€™ll get at the top.
There are lots of ways you could take this but try and keep it simple, within your budget and focus on items that will help her to get excited for the hen trip!
5. Record A Hen Do Invite Video With Her Loved Ones
This is a really simple and heartwarming way to invite the bride to her own hen weekend. Tee up some time with the bride'€™s closest female family and gal pals and get them to record a greeting and give a clue on camera about what she can expect.
This is an especially lovely invitation idea if there are some girls who live overseas or who can'€™t make it to the hen. They'€™ll be able to record their bit and send it to you so they can still send their love to the bride and take part in the hen do fun.
6. Write A Hen Party Invite Song
We wrote a hen party poem but we can'€™t sing for toffee, so we'€™ll have to leave writing the hen party song to you!
If you or any of the bride squad are talented guitarists, pianists or singers, why not get together and write the head hen a song to invite her to the hen do? Keep it short, maybe make it a bit funny and serenade the bride at home, work or online to invite her to her hen night. She'€™ll love it, never forget it and she'€™ll be able to keep the song as a memento of your efforts!
7. Tag Her In Hen Party Posts With Clues On Social Media
We love this one because you can get really creative with the images or visuals you use in each social post. We'€™ve crafted a quick hen party clue example above but you could take this one in any direction!
It'€™s up to you if you post this on her public Facebook or Instagram profile, or if you keep it within a group event or WhatsApp chat you'€™ve created.
For some hen do clue ideas to invite the bride, you could:
Post a view of the landscape in your chosen hen party destination.
Give her a clue about what to pack.
Share a link to a hen party playlist you'€™ve built.
Post a photo of a section of a costume that hints at the hen do theme you'€™ve chosen.
Post an item from the hen party scavenger hunt list you'€™ve planned.
Make sure you have some fun with this one and she'€™ll love having the clues extended over a few days or weeks in the lead up to the hen to help build the excitement.
8. Get Her Fiance To Record A Hen Invite Video
No one loves the bride more than her groom, so (if you can convince him to pose) he should jump at the chance to help plan her hen party fun.
All you'€™ll need is a good camera phone, a quiet setting and some hints for the groom to read out to give the bride some exciting clues about her hen party.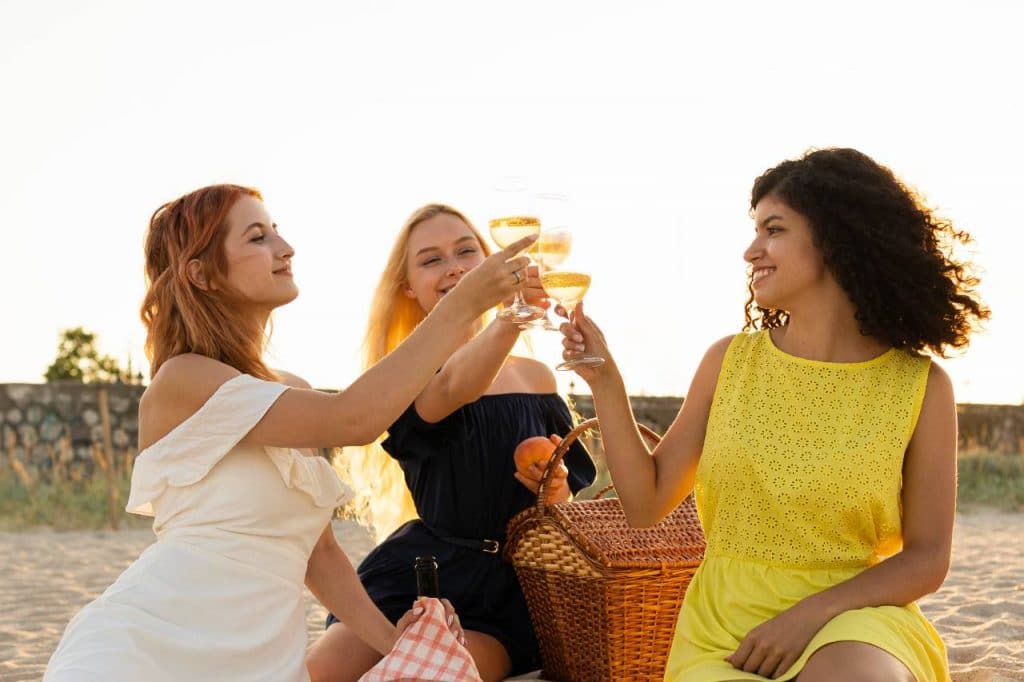 9. Organise A Hen Party Theme Brunch Or Afternoon Tea
If you'€™re planning a hen party theme, it'€™s probably because you know the bride loves whichever one you'€™ve chosen.
A really special way to invite the bride-to-be to her hen do is to host a brunch, lunch or afternoon tea with her bridal party and hand her a beautiful invitation you'€™ve designed. But remember to bring your hen do theme into the mix and include hints in the invitation, in your decor choices or the food you make or order for the meal.
You'€™re only giving hints about the theme., so some simple ideas would be:
If you'€™ve chosen a hen party colour theme, make cupcakes and buy balloons that match the colours.
If you'€™re planning a Disney-themed hen party, make Minnie Mouse cookies or create a music playlist for the meal that includes her favourite Disney songs.
For a Harry Potter themed hen do, hang streamers in her favourite house colours or make a cake with a lightning strike on the top.
For a festival or henchella-themed hen weekend, think florals and boho if you make a dessert or cake and maybe even give her a festival pass lanyard with her name on it as the invitation itself.
10. Mail Her An Old School Letter Invitation
If she is an old school classy kind of lady, you could keep things really simple and write her a beautiful, hand-written letter to invite the bride to her hen party.
You could even include a small post-it note from each member of the bridal party sharing their favourite memory of the bride or a small clue about the hen do. She'€™ll love the nostalgia of receiving something in the mail and she'€™ll appreciate the personal effort you'€™ve all made to give her an invitation with feeling and class.
11. Organise A Hen Party Flash Mob Invite
We don'€™t recommend this hen do bridal invitation for the faint of heart. But, if you'€™re a daring and creative dreamer, then read on.
Flash mobs have been used for proposals, political statements and just downright random fun. If you'€™d really like to surprise the bride and go all out with your invitation to her hen party, organise for a flash mob in a public space to perform a dance and hand deliver an invitation (once she stops laughing).
Some practical things to keep in mind:
Will the flash mob be made up of her friends and family? Or will you hire a group?
Which song? And who will choreograph the dance?
Where can you take the bride that she won'€™t suspect it'€™s coming?
12. Surprise Her With An Invitation Cake
Sometimes a simple invitation is the best way to invite the bride. We love the idea of just taking the bride out for a lovely meal with her '€œteam bride'€ (or a comfy meal at home) and surprising her with an invitation written on a cake or dessert.
This is the best invitation choice if the bride loves tasty food, quality time with her girls and only a little bit of a fuss made over her.
---
Whichever way you choose to invite the bride-to-be in your life to her hen party, make sure it suits who she is, who you are and what'€™s realistic within your timeframe and budget. She'€™ll love you for any effort you make!
If you have any more ideas for ways to invite the bride, let us know! X
Image credit: WAYHOME studio, by Shuttershock