Introduction
Do you hear the terms bridal shower, hen party, and kitchen tea being thrown around but don'€™t truly know the difference between the three?
Well good news, The Foxy Hen is here to take out the confusion. We have done the research for you and are going to compare the bridal shower, hen party, and kitchen tea so you can decide which is best for you and your hens!
Hen Party
What is it?
A hen party is a big celebration that comes prior to the wedding day. It can involve a variety of activities or even a destination location. If you are in the market for a weekend full of cheer with your friends, a hen party is for you! Fully customisable and personalised to ensure the best of times with your pals.
Where is it held?
The Foxy Hen offers a variety of destinations! These events can also be arranged in your home town or city.
Who attends?
Any or all of your friends! Groups can be sized from 5-30 participants.
Budget
Each hen can expect to pay from ''¬/£50-300+. This makes the hen party option the most expensive one out of the three choices.
Pros
Hen parties are always a blast and best of all The Foxy Hen helps you from start to finish picking out activities, choosing a destination, and collecting your payments from the girls (so you don't have to) which, in the end, saves you from a major hen party planning headache! 
Cons
The biggest issue is the price. While there are various price points offered, it can be a big ask of people to spend hundreds, maybe even multiple times a year, on hen parties. While it is well worth the money and fun, make sure you and your friends are aware that these events can add up quickly!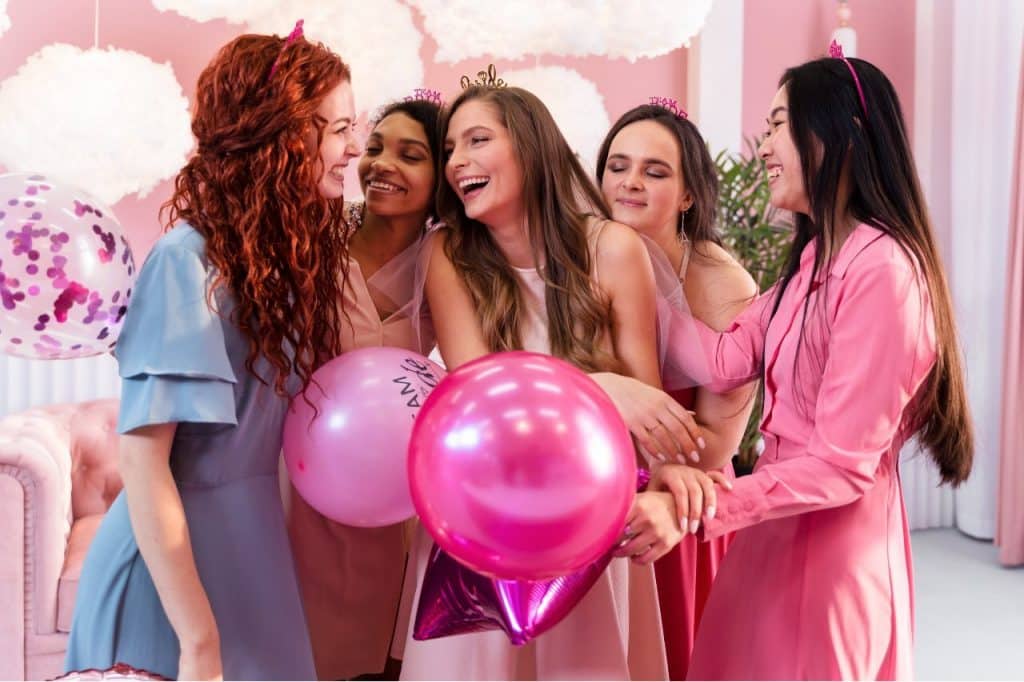 Bridal Shower
What is it?
In comparison to a hen party, a bridal shower is a more laid-back event. The Maid-of-Honour and Bridesmaids typically organise, as the day is all about spoiling the bride. The event consists of eating, mingling with others, and sometimes games. Often the bridal shower will have some sort of theme! For example, a vintage tea party or champagne brunch.
Where is it held?
Bridal showers can be arranged at a variety of venues including a restaurant, tea house, brunch spot, or in the comfort of someone's home.
Who attends?
These gatherings consist of the bride's friends and oftentimes family as well, including (but not limited to) mums, sisters, and grandmothers.
Budget
Depending on the venue and gift, typically a bridal shower costs each guest anywhere from ''¬15-50, making it a much cheaper option compared to the hen party. Guests typically purchase gifts from the registry created by the bride, so you can pick something that is in your price range.
Pros
The bride will be showered with gifts and love from her friends and family. There is no doubt this get-together will make her feel appreciated and special before the big day.
Cons
Let'€™s be honest, it'€™s no hen party. While a bridal shower will make the bride feel special and appreciated, it is not guaranteed all the laughs and craziness of a hen do.
Kitchen tea
What is it?
Kitchen teas have been making their way back into fashion recently. Kitchen teas were a popular Irish wedding tradition before the big hen parties took over. They are similar to a bridal shower but even more low-key.
Guests bring a variety of items for the bride's kitchen which can include a baked cake, appetisers, kitchenware, or anything else you think the bride may want for her home.
Where is it held?
It is hosted at home, typically in the kitchen! (Hence the name).
Who attends?
A kitchen party is usually thrown by the bride's mother, mother-in-law, grandmother, or aunt. Anyone can be invited but the guest list tends to consist of the bride's closest friends and family members.
Budget
These events tend to be cheaper for the hosts and guests since everyone is bringing something to contribute. You can expect to pay anywhere from ''¬/£10-25 as a guest, and potentially ''¬/£50-100 as the host.
Pros
This is a much more intimate event that often involves sipping tea and skipping the bubbles. If you are looking to get together with loved ones before the wedding with little to no planning and less cost, opt for a kitchen tea.
Cons
Since this is a smaller at-home event there is not all the glitz and excitement that comes with something like a hen party. A smaller at-home event may not fit everyone's taste, and that is okay.
Conclusion
Everyone has their own personal preferences, and whether you go with a hen party, bridal shower, or kitchen tea, you are sure to have lots of fun and create many unforgettable memories.
Which one would you choose to put on between a hen party, a bridal shower, and kitchen tea?