Introduction
Nothing screams "WE'RE ON A HEN NIGHT!" like customisable t-shirts that tell everyone you bump into during your night out exactly what's going down. However, instead of the regular, boring shirts, simply bearing the name of the bride and the date, why not get a bit more creative with one of our funny hen party t-shirt ideas instead?
Customisable t-shirts for your hen weekend not only give you a memento of the event that you can then wear to bed for the next twenty years, but they also serve a practical purpose of helping you find your ladies the busy bars you'll be visiting. After all, we modern women are fabulous at doing several things at once, right?
1. One last fling
Everyone's tops: "Last fling before the ring"
When you're living it up in the city and want to stand out from the other hen parties you're bound to bump into, we highly recommend a bright background with the simple but funny slogan 'one last fling before the ring' emblazoned on it. It's cute, it's amusing, and it tells anyone spotting you and your entourage exactly what kind of night out you're having.
Having the slogan on the front of your shirt leaves you plenty of space to put your names and dates on the back, should you be so inclined.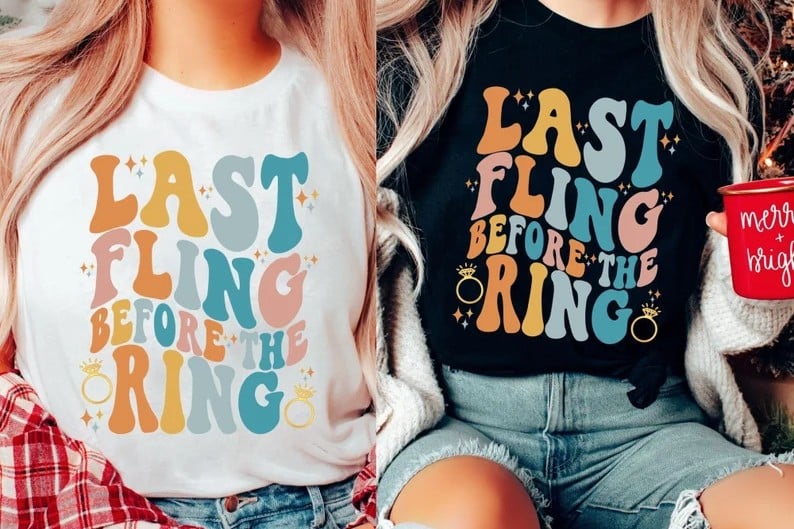 We love this retro design from The Good Fight on Etsy.
2. Wife of the party
The bride's top: "Wife of the party"
Everyone else's: Their roles, their nicknames or the hen's name and date
This funny hen party t-shirt idea lets everyone who bumps into your troops on the night know exactly who the bride-to-be is without them having to wear L Plates or that tell-tale pink tutu that's synonymous with a pre-wedding knees up. Obviously, it's also a fun take on the 'life of the party' and that makes it even more amusing in our eyes.
Clearly, this funny t-shirt is solely for the hen, but it's sweet to also identify the other roles being fulfilled, such as mother of the bride and maid of honour. The rest of the crew can have the hen's name and dates on their shirts as a memento of the event.
3. Brutal honesty
Everyone's tops: "On it 'til we vomit"
If you reckon the hen night is absolutely, definitely going to get messy and will undoubtedly result in someone holding back someone else's hair back as they lean over the toilet at the end of the evening (don't worry, we've all been there), then an 'On It 'til We Vomit' shirt might be the most honest slogan for the festivities.
This funny hen party t-shirt idea will also let anyone bumping into the party on the night out know just how serious the drinking is about to get. They can either join in the fun and order you a round of tequila shots at the bar, or they can stand back and let the professionals do their thing…
4. Hens only
Everyone's tops: "Hens only, no cocks"
We don't know about you, but we love our funny hen party t-shirt ideas to not only be humorous but also a wee bit cheeky. This is where the slogan 'Hens Only, No Cocks' comes into its own. It's not overtly rude but makes the point we all need it to make. It's kinda the grown-up version of the signs we had on our bedroom doors as kids, signalling that no boys were allowed over the threshold.
We thought boys were gross back then and sometimes we still do. We end up marrying them anyway, though. We love this t-shirt with added cockerel imagery with a strike through it, just to reinforce the point. Alternatively, a 'One Hen, insert number Chicks, No Cocks' is equally amusing.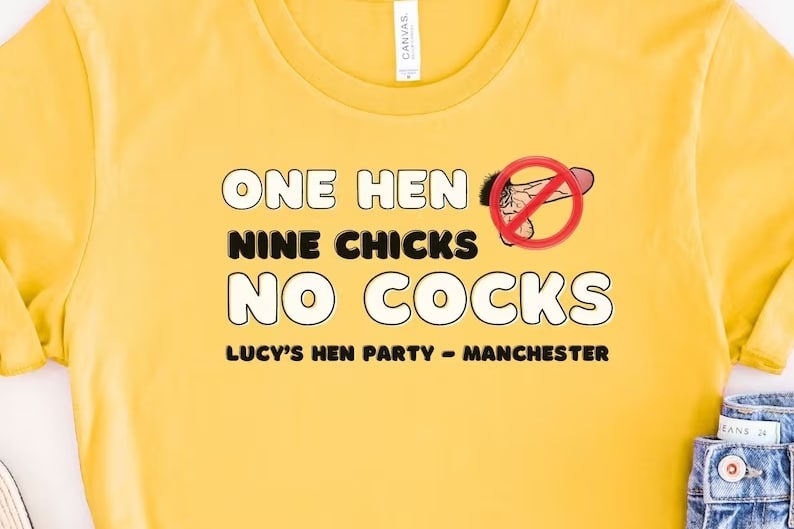 We love this version from the Greedylab Etsy store.
5. Here comes the bride
The bride's top: "Here comes the bride"
Everyone else's: "Here comes the party"
…Aaaaand here comes the party! We love this funny hen party t-shirt idea because it plays up on the traditional wedding song sung down the aisle and gives it a fun makeover for the bride's big hen night out.
6. Drunk hunk
The bride's top: "I've found my hunk, so we're getting drunk"
Everyone else's: "She's found her hunk, so we're getting drunk"
Now that the bride has identified the ideal man for the role of husband, it's only right that the hen night shirts read 'I've Found My Hunk, So We're Getting Drunk' across the front. Not only does it set itself apart from the run-of-the-mill shirts that are a dime a dozen up and down Main Street on a Saturday night, but it says, 'hen night' without actually having to say, 'hen night'. The hen's shirt can keep the main slogan, while the rest of the party can have the slightly altered version of 'She's Found Her Hunk, So We're Getting Drunk.'
That'll set the bride-to-be from everyone else and ensure everyone knows just who's getting hitched. We love this funny hen party t-shirt idea as it isn't offensive and can be a bit easier for introverted hens to wear. After all, not everyone's going to be comfortable with something rude or suggestive.
7. Regional variations
For example: Dublin lassies on the lash
If you're looking for something extra special and are maybe travelling out of town or abroad for your hen do, why not come up with your own funny hen party t-shirt ideas? For example, if you and the gals are from Wicklow, a 'Wicklow Girls on the Wine' with the hen's name and date underneath would signal your intentions to passers-by and let everyone know what's up. 'Dublin Lassies on the Lash' and 'Glasgow Girls on the Gin' are our personal favourites but all it takes is a bit of imagination.
If you can't come up with something yourself, make a contest out of it and ask everyone to submit their ideas before choosing the one that makes you laugh the most. If you have several favourites, write them all on paper and choose one at random from a hat.
Conclusion
Funny hen party t-shirt ideas will allow you to adhere to traditional shirt-wearing on your night out or weekend away but also lets you put your own individual stamp on the festivities. Why be like everyone else when you can really stand out? There's no limit to what you can come up with when you and your squad put your heads together (over a few glasses of wine, obviously) and brainstorm some ideas.
Whether your hen night is a themed event, a simple dinner and drinks with your best mates, or a riotous weekend somewhere across the sea, we hope you found an idea or some inspiration with our funny hen party t-shirt ideas.
For all of your other hen party planning needs, why not check out the hen destinations on offer on our site or soak up some hen do ideas?