Searching for the perfect COVID hen party ideas can be really exhausting. We get that, which is why we want to make your experience a seamless and enjoyable process.
Creating your ideal hen party can be difficult enough without adding Coronavirus restrictions on top of it. To bring the stress down and save you time, we'€™ve put together the best ideas and activities for your upcoming hen party so that you don'€™t have to! These are our fave COVID hen do ideas to give your group a unique experience with minimal worrying about restrictions, cancellations and safety concerns.
We can help with every aspect of your hen party planning '€" whether you'€™re looking for activities, meals or accommodation. There'€™s nothing that a bit of improvising can'€™t fix when a worldwide pandemic gets thrown in your face!
COVID Hen Party Ideas
We have listed our top 13 best COVID hen party ideas for how to create a special experience for your group, even with the pandemic still affecting life in the UK and Ireland.
1. Outdoor Picnic
COVID hen party ideas don't come as simple as a beautiful picnic! The options for this activity are endless – you could do this in a backyard, park, arboretum or even a beach! Bring along the girls'€™ favourite foods and drinks and spend a lovely afternoon enjoying the atmosphere and company.
You can even add a hen party theme to your picnic plans to make it tailored to the bride-to-be. For example, if she's a bit boho, then find some pampas grass, wildflowers and cute cushions to sit on. Or, if she's a beach bunny, then plan a tropical-themed hen do with fruit cocktails and some greenery.
We love a budget hen party idea but even more so when it'€™s about quality time with the girls. Add in some hen party games and the bride-to-be'€™s fave foods and you'€™ve got a unique experience everyone will love. It'€™s just a bonus that it'€™s COVID-safe.
2. Water Sports
Not only are water sports incredibly fun, but they also are extremely conducive to social distancing. What better way to enjoy a COVID-free hen party than by playing in the open water? There are a ton of different directions to take this activity – you could kayak, surf or even try coasteering (if you'€™re ok with heights)!
Whether in or around the water, there are plenty of things that you could still book, even with pandemic restrictions. Check out our coastal and riverside destinations across the UK and Ireland '€" particularly Galway, Bournemouth, Sligo, Brighton, Carlingford and Newquay.
3. Festival Of The Bride
This activity is so fun, Coronavirus or not! Celebrating the bride-to-be with all of her favourite things in the comfort of a backyard has become a hugely popular hen party idea in recent years. But COVID-19 has made sure it took top place for a safe hen do in 2021.
Jump on the wave and go all out with your very own music festival featuring things like festival clothes, glitter galore, lanyard and the bride'€™s fave tunes! Add some great foods and drinks and you'€™ve got yourself your very own festival themed hen party to truly celebrate the bride!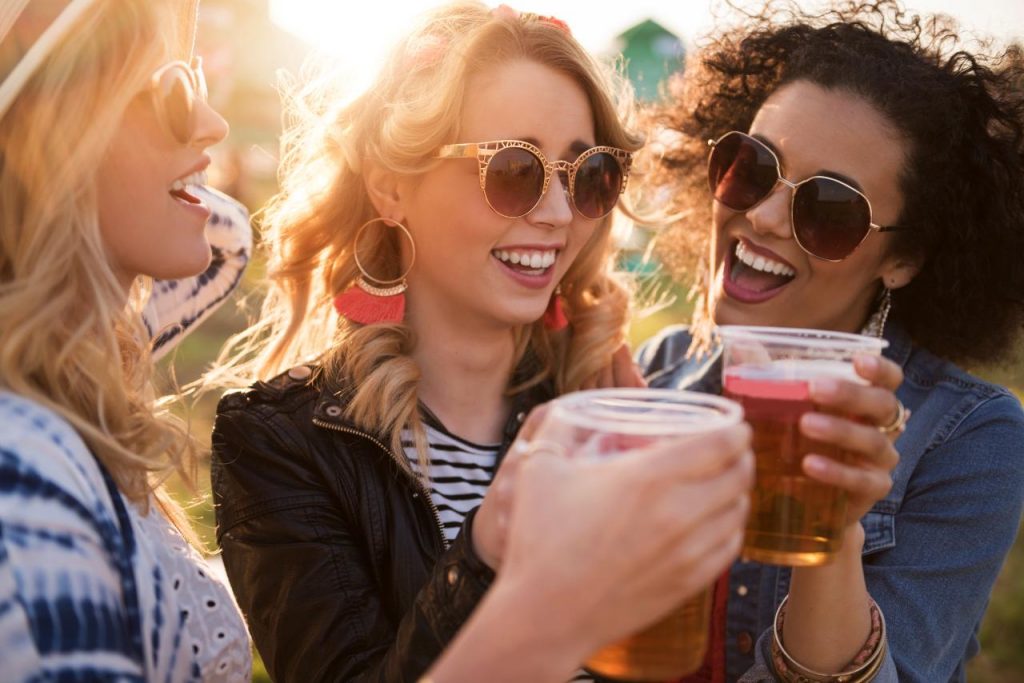 4. Private Cooking Class
Cooking classes have always been a fan favourite when it comes to low key hen party activities, but COVID has made this near impossible.
Many businesses are now bringing this back as an option for your COVID hen party ideas by letting you reserve a private room in the restaurant or even coming to you to teach a cooking class!
It'€™s completely safe and will leave you all with a fun and delicious dinner!
5. Flower Crown Workshop
Show your creative boho side with your very own flower crown workshop! Each girl can create a beautiful flower crown with so many options to combine different colours, flowers and embellishments. The hen will love this bonding experience and can even book it for inside or outside to ensure it'€™s consistent with her safety standards!
This can be booked in all of our UK hen do locations, and you can contact us to enquire if you're in Ireland as some covid restrictions may still apply.
6. Book a Hen Party House
A self-catering house is a perfect way to have an amazing hen party while staying safe! Although there are still some restrictions regarding numbers in some destinations, there are plenty of low key activities that the hen and her girls can do from the comfort of a getaway home.
Plan a hen do sleepover with a movie night, spa pamper session or game night! For the bride who just wants a relaxing trip away with her closest gal pals before her wedding, this hen party idea is perfect.
If a girl's weekend away tops your list of COVID hen party ideas, then check out your fave locations in the UK, Ireland and Europe.
7. Garden Tea Party
An elegant garden party is the perfect balance of coronavirus safety and sophistication (how many hen activities can do that?). If the bride-to-be is the classy type and would love nothing more than getting dressed up for a fancy night under fairy-lit trees, then, of all the COVID hen party ideas listed here, this is the best one for her!
So put on your best dresses, pop the prosecco, snack on some delicious food and celebrate the bride-to-be amongst the greenery, flowers and fresh air.
8. Glamping Weekend
Who doesn'€™t love a glamping weekend?! If you haven'€™t tried it yet, you should definitely give it a shot at your hen party. Not only is it super COVID-friendly, but it is so much fun! This elevated form of camping is one of our favourites and an amazing bonding experience for the hen and her girls.
Check out hen do locations in the UK and Ireland for glamping spots, or you can book independently. We'€™ve even heard you can hire a company that comes and sets it up in your backyard! So, whether you'€™re planning an at-home, staycation hen party or you'€™re looking to travel a bit further, a glamping hen party is a unique experience your ladies will love.
9. Old School Sports Day
This classic idea is perfect for a COVID-friendly hen do activity! An old school sports day, AKA '€œhen olympics'€, is such a fun way for the girls to show their competitive sides while socially distancing. The best part – you don'€™t have to do the planning!
You can book this activity with us in most destinations in Ireland and the UK, so all you have to do is show up and enjoy yourselves.
10. Backyard Workout Class
We know fitness might not come immediately to mind when you're thinking of COVID hen party ideas…But, bear with us!
If the bride-to-be is a bit of a health freak or if she is shredding before the wedding, then you should seriously consider this hen do activity. It's healthy, it supports her goals and it's socially distanced.
Whether you lead your own class or hire a professional teacher, this satisfying activity is safe for all. Build up a sweat or try your hand at yoga, in your own backyard or (for extra special points) head to the beach at sunrise or sunset.
Not only is it safe, but it'€™s also fun and gives you an excuse to have that extra hen do doughnut later on!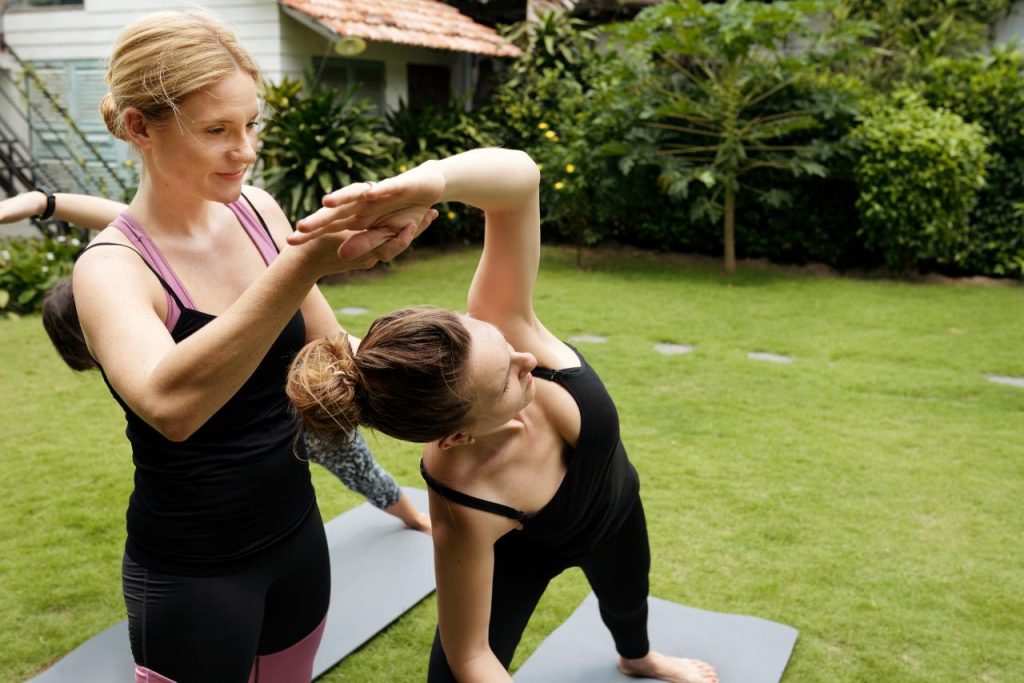 11. At-Home Cocktail Bar
We understand the importance of having some good drinks to kick off your hen party. That'€™s why creating an at-home cocktail bar is such a fun compromise to having that wild hen party during COVID! All you need is the spirits, some mixers, fancy garnishes (think edible glitter, flowers, fruits and swizzle sticks) and a spot for the girls to mix away!
You can DIY your own cocktail mixing or hire someone to come to your home or accommodation and guide you through it. Either way, you'€™re sure to have a great night if your ladies love a cheeky cocktail or 10.
12. Blind Wine Tasting
Ahhh, what a classic. Blind wine tasting is a fan favourite when it comes to hen party activities, but it'€™s been hard to plan with COVID getting in the way. Try this classic classy activity from the comfort of home and set it up yourself!
All you'€™ll need is a variety of different wines (red, white, rosé, moscato etc), lots of wine glasses, something to cleanse the palette and some tasty snacks to soak it all up.
13. Paintball
Not all hen parties are super girlie and full of flowers and prosecco. Some (of the best) hen parties are an all-in, sweat-filled, mad weekend of competition. So, if you'€™d like to bring out your inner Lara Croft and shoot each other up, then a socially distanced game of paintball is top of the pack for safe COVID hen party ideas.
So get the girls outside and book your hen do in for paintball in almost any of our hen party destinations in the UK and Ireland.
Conclusion
It is completely possible to book and plan the perfect hen party, even with COVID-19 still a part of our lives. We'€™re here to help with your COVID hen party ideas and to book any items if you'€™d like someone else to handle the stressful bits.
Find your fave hen do destination, add your item(s) to your basket and submit your booking for free and with no commitment. We'€™ll check with your supplier(s) and let you know asap what'€™s possible.
As always, we do recommend checking out the latest government guidelines for the UK and Coronavirus information for Ireland before planning any gathering.
Any questions? Just get in touch and we'€™ll be happy to talk through your plans!
Main Image Credit: People photo created by freepik – www.freepik.com